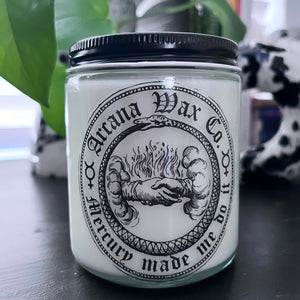 Mercury Made Me Do It
Regular price
$22.00
$0.00
"Mercury made me do it" Is a blend of eucalyptus, lavender, and cedar wood. Eucalyptus is said to improve mental clarity and is often prescribed for respiratory ailments. For these reasons, eucalyptus is attributed to Air and Mercury. Mercury is the planet associated with all forms of communication and rules both Gemini and Virgo. Eucalyptus is used to bring fresh energy to a situation, to heal regrets and worries, and to relieve mental exhaustion. It is an excellent herb to use when someone or something is bothering you. It is often blended with other healing herbs to bring relief from physical or emotional concerns. Lavender will help to relieve exhaustion. Cedar wood is known to relieve tension and stress and notes of peppermint are effective in relieving anxiety.
Smudge Blend:
Dried eucalyptus leaves: purifying, cleansing and assists in bringing good health.
Lavender: restores balance and creates a peaceful atmosphere.
White Sage: used for cleansing, purifying and protecting your space.
Crystal: Labradorite
A stone of transformation. This stone will help you to reach your full potential and be the person you are meant to be. It also attracts luck, helps to relive stress and anxiety and gives you protection from negativity. 
DIRECTIONS:
Set your intentions before lighting the candle.
Light herbs on top of candle. The smolder emitted from the herbs are to be used to cleanse your space.
The crystal that remains is yours to keep as a reminder of the intentions you set when you first lit the candle. 
 CANDLE CARE:
Trim your wick to 1/4" before each lighting

Allow the melted wax pool to reach the edges of the jar before extinguishing to prevent wax build up and tunneling

Burn for approximately 3 hours at a time, but no longer than 4 hours
Do not burn candle to the very bottom of jar. Stop use when only 1/4" wax remains. If there is no wax to coat the dried herbs, they will catch fire. 
Burn candle within sight, keep out if reach of children and pets.

Glass will be hot after burning, allow wax to cool completely before handling.
---
Share this Product
---
More from this collection